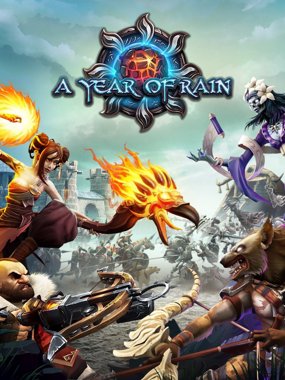 Requisitos de Sistema para A Year Of Rain
Estos son los requisitos del sistema de A Year Of Rain (mínimo)
PROCESADOR: Intel Core i5-4690K 3.50GHz
PARTE DE LA CPU: Info
MEMORIA OPERATIVA: 8 GB
SISTEMA OPERATIVO: Windows 8 (8.1) 64Bit
TARJETA DE VIDEO: NVIDIA GTX 960 2GB
PIXEL SHADERS: 5.1
VERTEX SHADERS: 5.1
ESPACIO DE DISCO : 14 GB
MEMORIA DE VÍDEO DEDICADA: 2048 MB
Requisitos recomendados del sistema para A Year Of Rain
PROCESADOR: Intel Core i7-4790K 4.00GHz
PARTE DE LA CPU: Info
MEMORIA OPERATIVA: 12 GB
SISTEMA OPERATIVO: Windows 10 64Bit
TARJETA DE VIDEO: NVIDIA GTX 970 4GB
PIXEL SHADERS: 5.1
VERTEX SHADERS: 5.1
ESPACIO DE DISCO : 14 GB
MEMORIA DE VÍDEO DEDICADA: 4096 MB
Infografía de los requisitos del juego A Year Of Rain
Datos incompletos!
Para formar la infografía, se utilizan datos técnicos incompletos sobre los requisitos del juego A Year Of Rain. Los datos se calculan basándose únicamente en los requisitos recomendados. Estamos trabajando en la recolección de datos.
los jugadores pueden jugar A Year Of Rain
basado en 1 426 configuraciones de PC de usuario
"+ añade los tuyos"
4.7% - Porcentaje de jugadores que pueden jugar A Year Of Rain
95.3% - La configuración de la computadora no pasa los requisitos del sistema
4.7%
Juega con cómodos ajustes gráficos
??%
ejecutará sólo en la configuración mínima de los gráficos
0.5%
más accesible que otros juegos
¿A Year Of Rain irá a mi computadora?
Elija los componentes de su PC para ver si su computadora puede ejecutar A Year Of Rain
Procesador
mínimos:
Intel Core i5-4690K @ 3.50GHz
recomendados:
Intel Core i7-4790K @ 4.00GHz
Tarjeta de vídeo
mínimos:
recomendados:
GeForce GTX 970
Memoria operativa
mínimos:
8 Gb
recomendados:
12 Gb
El juego no irá
El juego irá a la computadora, pero, lo más probable, será imposible jugar
Mínimo para jugar el juego
Cómodo modo de juego
El rendimiento de mi computadora
Los jugadores de A Year Of Rain también miran